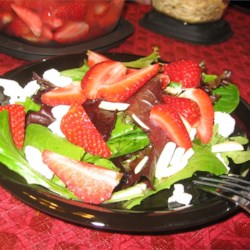 This is a deliciously different salad. No, it's not the cheapest salad on the planet, but it sure is fun to make it every once in a while for a special occasion or just for the anyhow. The strawberries and feta cheese give it a delightfully different taste and the dressing is really yummy too.

Strawberry and Feta Cheese Salad
1 head green or red leaf lettuce
1 bag baby spinach
1 small red onion, thinly sliced
1 c. feta or blue cheese, crumbled
1/2 c. sliced almonds, roasted
1/2 c. Parmesan cheese
1 c. sliced strawberries (I've also used mandarin oranges, canned)
Dressing*:
1 c. sugar
1/2 c. olive oil
1/2 c. cider vinegar
2 dashes Worcestershire sauce
2 Tbsp. chopped red onion
Assemble salad ingredients in a large bowl. In a blender, place dressing ingredients; blend until smooth. Just before serving, pour dressing over salad and toss until well coated.
Yield: 8-10 servings
*We like lots of dressing, but I have found that there is still plenty of dressing with only using about 2/3 of this recipe.
For other great recipe ideas, check out Balancing Beauty and Bedlam's
Tasty Tuesday
,
Blessed with Grace's
Tempt my Tummy Tuesday
, and All the Small Stuff's
Tuesday's at the Table
.