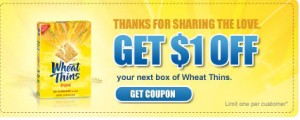 I posted earlier about a
$1/1 Wheat Thins Stix
coupon from Facebook. But what I just discovered today is that if you scroll to the bottom of the page and click the "Share" button you will then be able to print another $1/1 Wheat Thins coupon, this one for any Wheat Thins snack!
And it looks like Wheat Thins and
Triscuits
are on
sale at CVS next week
for 2/$4 with a $5 Extra Bucks when you spend $15 on select products. So maybe we can all get a great deal with these coupons!